BRICK CUTTING SAWS
Battipav
Battipav was estabilished in the 1970's. Today, after nearly 30 years, the company covers an area of about 12,000 m², of which more than 7000 are indoor, and distributes its products in over 90 countries.  producing high quality tiling tools and stone cutting equipment.
The philosophy of construction and design for Battipav is something very solid and important.
A series of strict quality controls, throughout the production process, allows us to have an index of defectiveness equal to zero, for TOTAL RELIABILITY.
Therefore each of our machines has a WARRANTY OF 24 MONTHS.
Every Battipav product is studied, DESIGNED AND MANUFACTURED IN ITALY, which is our pride and great advantage against competitors. A seal of quality engraved on each product to identify the origin and the authenticity.
Designed and Made in Italy.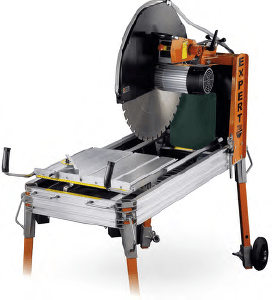 BBL Major Block Saw
FEATURES
Stay Level Blade Guard

Conveyor cart with non slip rubber and tilt-lock wheels.

Water return channels.

Fully protected blade support shaft.

Spring-loading cutting head actioned by foot pedals or cutting handle.

Crank controlled cutting depth adjustment and head locking device.
CM 42 clipper brick saw
FEATURES
Folding legs and transport wheels.

Built with steel frame and legs.

Steel water tray.

Electrical water pump with slurry separator.

Easy transportation and storage.

Extreme rigidity and strong.

Dust free working conditions.

350mm or 400mm blade capacity.

Optimum cutting depth of 135mm