Morley Saws
M35
This big-block, air-cooled 4-stroke EH99 V-Twin Subaru powered saw lifts a 24-inch blade out of the cut, yet maintains amazingly compact dimensions. At 3000rpm, the V-Twin provides 35.4hp with 62ft.lbs. of torque, and with hydraulic raise/lower and hydrostatic forward/reverse, the new saw offers the best amenities package and price of any saw its size on the market. At 3600rpm the V-Twin tops-out at 40hp. This new addition to the M.E.C. saw lineup, we're characterizing as a "compact," raises the bar when it comes to power-to-weight ratios. At 34-inches tall, 26.5-inches wide, 37-inches long and weighs-in at less than 700-lbs., the saw is easily transported in lighter-weight trucks, making it ideal for concrete, asphalt, electrical and plumbing contractors; city, county and state Departments of Public Works; water districts; school districts; and the likes. Join the Team, call for more details.
OPTIONS
Electric Water Pump
Night Light
Comes with 16-inch bladeguard;
20- and 24-inch guards available as options.
M48-44D
Morley Williams, founder of Masterpiece Engineering Co. and its popular MECO line of concrete cutting equipment, presents the latest products from Morley Equipment Company – the M48 and M44D. These saws utilize the same compact easy-to-handle platform, with two liquid-cooled engine options – the 48hp Hyundai ZPP 416 gas engine or for diesel aficionados, the turbocharged 44hp Kubota V1505-TE. These saws lift a 36-inch blade out the cut and with the option a 3-speed gearbox provide the versatility for all size jobs. The easy-to-operate, easy-to-maintain saws are designed to be affordable, dependable and most importantly, a profitable addition to your line-up of concrete cutting options. Feature/benefits include independent drive-wheel motors, hydrostatic forward/reverse and hydraulic raise and lower. These quality- and performance-driven saws were designed and built with being a "great value" as the ultimate objective.
OPTIONS
48hp Hyundai ZPP 416 – Gas Engine
44hp Kubota V1505-TE – Diesel Engine
3-Speed Gearbox
Electric Water Pump
Night Light
MD62
The M62D, with the concrete cutting industry-proven 62-horsepower water-cooled Perkins diesel engine, is the perfect combination of size and power for any job. Only slightly larger than the M44Ds and M48s, it resets the bar when it comes to operator-friendly saws.
FEATURES
62-horsepower, Perkins 404D-22T water-cooled diesel engine.
Length: 47-inches; width: 31-inches; height: 41-inches;
weight: 1330-lbs.
Lifts up to 42-inch blade out of the cut.
Independent drive-wheel motors with innovative 4-bolt hubs for quick easy wheel changes.
Positive 8-belt drive to spindleshaft with easy-to-change blade mount studs. A variety of stud lengths allow ganging blades. Should a problem arise, just change the stud while the shaft stays in place. A real time and money saver!
Oil pressure and voltmeter indicator lights, tach and water temperature gauges, and emergency shutoff switch.
Positraction switch for cutting where traction can present a problem.
Easy service and maintenance.
OPTIONS
The M62D comes with a 20-inch bladeguard: 26-, 30- and 36- and 42-inch bladeguards are available as options.
3-Speed Gearbox
Electric water pump
Night Light
AGP Concrete Equipment
At AGP quality is our prime focus. We at AGP define excellence as consistently performing at an outstanding level.
It means not only being the best that we can be, but also being better relative to our competitors.
Our goal is for end users to find that our tools perform and last beyond expectations and beyond any competing brand's.
With each new model, we reference the existing leading product on the market, and ensure that our tool is superior.
Wet & dry diamond core drill
The DM160 2000w is built as a heavy duty wet or dry diamond core drill.
It is made to be easily converted from wet to dry use by removing the water seal mounted at the front of the gear box.
The 3 speed gear box with variable speed in each gear, provides the ideal cutting speed and maximum torque. The slip clutch and electronic overload protection provide safe, hassle free drilling.
Rig Mounted Core Drill
Whether hand held or rig mounted, the AGP DM250L Diamond Core Drill is specifically designed to match and exceed the demands of professionals. At the heart of these machines is a purpose designed 3 speed, 2600w motor made to have the ideal characteristics for a diamond core drill application. They are plenty powerful, but the emphasis is more on bullet-proof durability, even under challenging loads. Great pains were taken by our motor design team engineers to come up with the perfect combination of high output and cool running.
The motor overload protection is made to be the most effective and unobtrusive you have ever used. No long waiting needed.
The 3 speed mechanical gearbox is made to give the best torque for a range of sizes and aggregates. The front seal is quick replaceable without the need to remove the gearbox. Added convenience with the 45 degree tilt and built in bubble levels.
The total design is built to give the best rigidity while at the same time having exceptionally low weight.
CS 180
Equipped with a powerful 1800 Watt motor to run the two 180mm diamond blades with no bogging. The motor is protected by a smart electronic overload (No thermal switch to wait for: just release the switch and start again.)
The ergonomic handles allow a variety of holding positions for comfortable cutting.
The roller base allows smooth action and precise control.
Various spacers to create channels up to 51 mm in width and to a depth of up to 52mm.
ics diamond tools and equipment
utility diamond chainsaw
ICS® is a world leader in innovative diamond tools and equipment for the cutting, drilling, demolition and finishing of hard materials for over twenty years. Our patented diamond chain solutions have revolutionized concrete and pipe cutting in construction and infrastructure applications. We offer a full line of chain saw, diamond tool, and accessory solutions, enabling users to achieve the highest level of service quality and productivity. In the Americas region, ICS is also the exclusive provider of market-leading Pentruder wall saw, wire saw and core drill systems and accessories.
From commercial and residential construction, to utility pipe service and maintenance, ICS Diamond Tools and Equipment will help you get the job done reliably, efficiently and with the highest level of service in the industry.
695GC & 695F4 - Utility Chain Saw FEATURES & benefits
Use on concrete, stone and masonry
Square corners
Narrow deep cutting up to 16 in. (40 cm)
Small openings
94 cc gas powered engine
Safe, no kickbacks
Clipper CM42 Brick Saw
A tough work-horse. Whether it's on the building site, hire shops or testing lab, this machine will 'cut' your work time. It's efficient, durable and rugged. Pavers and bricks are sliced with precision, making your job much faster and easier.
   Features
Designed for portability and strength. A 3mm laser cut and folded structural steel frame is fitted with structural cross members to provide maximum rigidity.
400mm blade capacity
2.2kw
Foot Control allows greater control for difficult jobs
Portable with detachable stand for ease of movement
Spring Loaded Cutting Head! A must for the operator's safety!
Versatile Blade Settings to accommodate smaller or abrasive blades
Alloy Mitre Guide is included for 45 and 90 degree cuts
Carry handles fitted to tray for portability
A Quick action Hose Connector is fitted with a control valve to adjust water flow
K-Saw Block
Heavy Duty Block Saw
Maximum capacity and production masonary saw. It is available in 15 amp single phase, 4kw 3 phase, and a 5.5hp petrol motor. Sawing large blocks and stones is just too easy with the power of the K-Saw Block.
Features
Heavy Frame, sound construction
Blade capacity of 20" (500mm)
Cuts to a depth of 8" (200mm)
Durable conveyor cart control
Spring Loaded foot control
Alloy Mitre is includd for 45 and 90 degree cuts
A Quick Action Hose Connector is fitted with a control valve to adjust water flow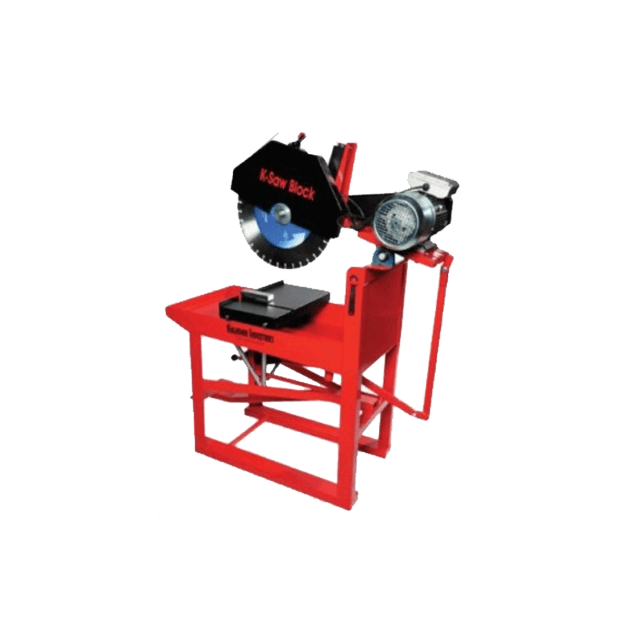 Soff-Cut Saws
The Solution to Random Thermal Cracking. As concrete hydrates and begins to set, it develops internal stresses and the objective in controlling random thermal cracking is to relieve these stresses before they seek their own form of a random crack. Soff-Cut has the only Ultra Early Entry(tm) dry cutting system which controls random cracking through the early timing of the cut.
With the Soff Cut Ultra Early EntryTM method, control joints are cut within one to two hours after the finishing process and before final set wihout chipping or spalling of the cut.
With 12 different models available and cutting depths from 30mm to 102mm we have a saw for every sized project, from Driveways to Factory Floors, Concrete Roads and Airport Runways.

Clipper Demo Saw
Smart Demo Saw
Engine Type Single Cyl, 2 Stroke (air-cooled)
Displacment 81cc
Max RPM 5400 rpm
Max Output 2.7KW
Fuel Tank 1.5 Litre
Standard Blade 350mm (14") Diameter
Cutting Depth Max 112.5mm (350mm Blade)
Overall/Dim 760mm x 360mm x 300mm
Weight 12kgs
Street-Tec Vacuuming systems
The Street-Vac vacuuming system is designed exclusively for slurry vacuuming at considerable less cost compared to comparable vacuuming systems currently on the market.
We have a Saw Guard or Vacuum System that is guaranteed to fit your needs and if there is specific job, then we are available to build you a custom unit to fit all of your needs. At Street Tech it is our goal to help you run a more efficient job and ensure you are meeting all regulations regarding slurry containment and environmental practices.