WELCOME TO


smart DIAMOND TOOLs
Smart Diamond Tools commenced business in 1989, making it one of the longest established suppliers to the professional concrete cutting and granite industries in Australia. Smart Diamond Tools is the sole Australian supplier of the US made Morley Saws, German made Dr Bender HF Cutting & Drilling Equipment, Hilti India Diamond Tooling, Toolgal Israel Diamond Tooling, AGP Taiwan Concreting Equipment, Deer King Industrial China & Tornado Diamond Tools China.
Our latest range of the Red Devil Diamond Blades are second to none in cutting speed and life, and our latest released 350 & 415mm HF Handsaw Blades designed to be used in 230v single phase power are the quickest cutting blades in any reinforced panelled concrete.
Smart Diamond Tools sells direct to contractors around Australia, so call us about any project as we won't be beaten on price or performance.
Lead
Accessories
4 OUTLET RCD 10A 20metre x 20amp 3phase w 4 pin plugs 20metre x 32amp 3phase w 4 pin plugs 30metre x 10amp plugs w 15amp lead HD 20m x 10amp plugs w 15amp lead HD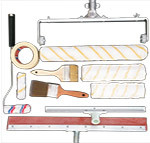 Roller Accessories
460mm Yoke Frame 460mm Sleeves 12mm Nap 270mm Sleeves 6mm / 14mm Nap 230mm Sleeves 6mm / 14mm Nap 100mm Sleeves (10pk) Brushes Squeegees 450mm / 600mm / 900mm Tape - Duct / Masking / Cloth
Spike
Accessories
Spike Rollers 250mm / 500mm Spike Shoes Gauge Rakes 500mm / 1000mm Coving Trowels Smooth Trowel
Vac
Accessories
90Ltr Wet/Dry Vacuum - 2 motor 90Ltr Wet/Dry Vacuum - 3 motor 38mm 2pce Chrome WAND 38mm Dry Vacuum Head 38mm Wet Vacuum Head 50mm Vacuum Hose 38mm Vacuum Hose